We visited NIWA LEATHERS in Kashiwa,Chiba.
Interview to Mr. Niwa representative of NIAWA LEATHERS, one of the most popular leather crafts in Japan and one of the users of LEDER OGAWA's cordovan for more than a decade.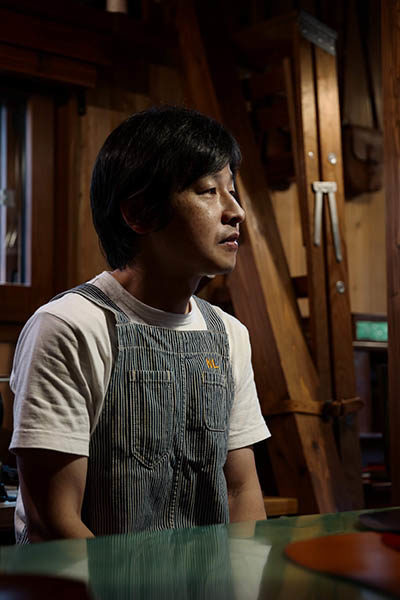 LEDER OGAWA Mr. Tobita: Thank you for sparing time for this interview.
NIWA LEATHERS Mr. Niwa: It's my pleasure !
Tobita : At first, I would like to know how you think of cordovan. What features attract you?
Niwa : Almost 90% of leathers I use is cowhide. Cordovan has been special leather since I start my crafting job for about 20 years. Cordovan is scarce. It is not easy to buy them. And price of cordovan has been much higher than cowhide.
Tobita : I see.
Niwa : For leather craftsman, most special feature of cordovan is that it does not crease when the material is bended or folded.
Tobita : No, it does not. No loose grain.
Niwa : Almost Zero Loose grain occurs. It's amazing. Quite different from other leathers. I make small leather items mainly, cordovan for outer shell brings durability to products. But our customer must pay more to choose cordovan. It is special leather to worth it.
Tobita: You feel something different from other hides. Cordovan goods used for a long time shows profound atmosphere.
Niwa: Yes. I place more emphasis on feel of material than external appearance. This is my preference. I choose the leather materials with material feeling and unique texture. One good example is natural color which has deep and clear feeling.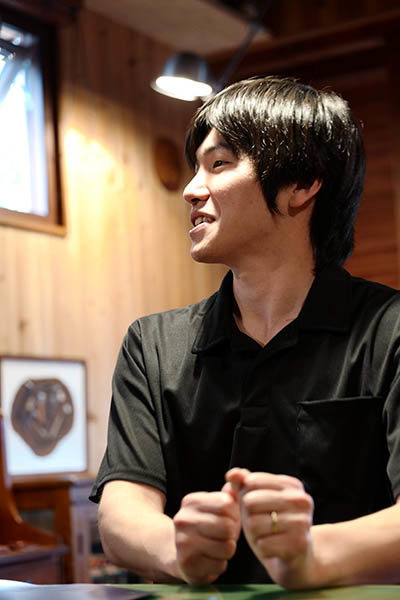 Tobita: Our leather is satisfying you?
Niwa : Ha ha! Sure. Your cordovan is great. Today, I am happy to know you well through this interview. And in addition, we are in neighborhood.
Tobita: I'm relieved to hear that. Ha ha! My pleasure, too.
Tobita: When we met before, you showed me business card case made of cordovan. It was amazingly beautiful. Its edges are so nice. I found that polished edges could be more beautiful than painted edges because polishing would make use of unique texture of cordovan.
Niwa: Craftsman like me has interests in cross section of leather, not only in surface texture. Some leathers look good in texture but too hollow. For that kind of leather, I have to add paints or something to remedy defects. High quality leather is necessary for natural finishing.
Tobita: Oh, I see.
Niwa: So, I will check leathers not only from surface but also from cross section. I can feel high quality of LEDEL OGAWA's cordovan when I cut it. Feels really good.
Tobita: Cordovan is relatively thin compared to other leathers. What do you think of it?
Niwa: I think it's nice. To make use of cordovan, combination of leathers is an important key. The good combination will bring out features of each leather and enhance product's atmosphere.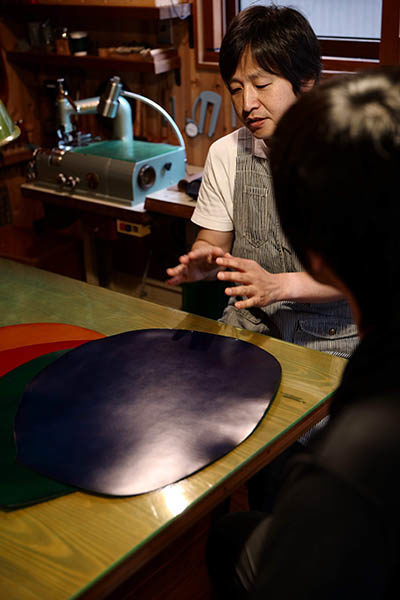 Tobita: LEDER OGAWA, our company is particular about density of leather texture. We degrease hide by hand in order to finishing it perfectly, without using machines or rollers. This process is the only way to allow us to produce unique and excellent gloss of our products. And 100% mimosa tanned cordovan leather is also essential for our glittering cordovan. Process and material, the both are crucial.
Niwa: Honestly saying, I often find many leathers are not like yours. Unfortunately, it's very common. So that I would like customers to know the difference, but it is not easy to introduce without pushing it.
Tobita: Yes, it is difficult (Laughing).
Niwa: I think it is good process that customer will understand features of good quality leather after using it gradually.
Tobita: Color of our cordovan may change due to aging. This is one of features coming from water-soluble dye. Are there any comments from your customers about aging?
Niwa: I always say it may change in color when receiving new order. So, I have samples here in this shop. They were made about or more than 10 years ago. But our customers are those who think aging or change in color is welcome, as good atmosphere added.
Tobita: Excellent !! Thank you for sharing exciting time with us.
Niwa: Me, too !! Keep in touch.
Tobita: Yes, of course !
NIWA LEATHERS
〒277-0071
1-3-48 Toyosumi Kashiwa Chiba JAPAN